D-Lab Toolkit — Course Setup
Description - Course Setup
The course setup manual explains the process of setting up a D-Lab style course with specific examples from our classes. It includes advice on what makes a good project, how to find and choose clients, student recruitment, and identifying resources like funding and curriculum materials. The information here can be used to set up a Feasibility Studies course, where students do interdisciplinary research and analysis to assess an idea and make suggestions, or Design, Build, Test, where students create a physical prototype. 
Why teach a client-focused feasibility studies course?
The purpose of project-based, client-focused courses is twofold: the first is to find sustainable, scalable solutions to pressing global issues; the second is to give students the skills they need to turn ideas into action.
In project-based courses, students work on one specific project for the duration of the course, applying what they learn to solve a real-world problem. Using a client-focused approach means the students are working on a problem for someone else; the client identifies the need and the project, then the students work with their client to define and complete a final deliverable by the end of the class. Projects that D-Lab students have worked on in the past include:
Designing a user interface and initial coding for an app to prevent environmental misconduct in Tanzania. 
Creating a business model canvas for a poultry farm in Mongolia, which the client used to apply for seed funding.
Prototyping a reusable bag design for a client implementing a new program to encourage people to recycle in Armenia.
Identifying best-fit water treatment, waste management, and sustainable energy technologies to create a sustainability master plan for a local brewery
Installing a solar-powered exhaust system, PV panel, and batteries on a greenhouse at the UC Davis student farm
Carbon footprint analysis of corn and tomato farming at a campus-affiliated research farm.
Teaching a successful project-based course requires a lot of preparation in advance, but we promise it will pay off. This guide is designed to walk you through the process of setting up your own project-based course from identifying resources at your institution, to project scoping, to recruiting clients.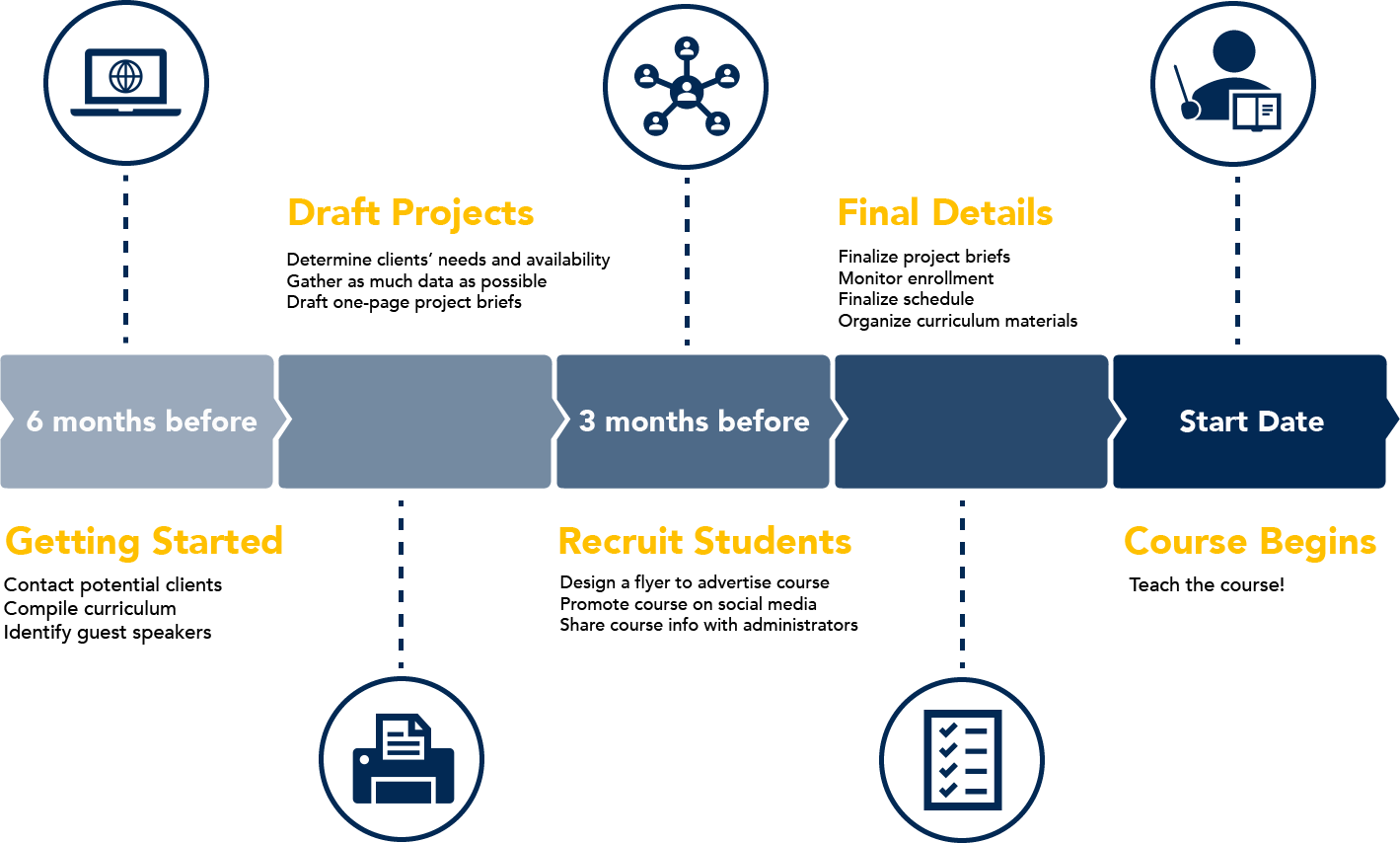 Timeline graphic illustrating the different phases of setting up the course, including identifying clients, drafting projects, and recruiting students
What makes a good D-Lab project?
Since the projects are the most important part of the curriculum, selecting good projects is a vital component of teaching a project-based course. Some key characteristics that make up a good project include:
The client. Above all, the client in a project must be communicative. That means they are willing and able to work with students, responding to questions relatively quickly so that students are able to move forward with their project. See "Finding clients" for more information on our process for selecting good clients.
Project scope. The scope of the project will be modified by the students during the course, but when the class starts it should already be well defined with an end-goal that is achievable given the limited time available to student teams.
Theme: Does your course have a theme, for example, a focus on energy, agriculture, development, or entrepreneurship? If so, make sure the projects tie into the theme in some way.
Interesting subject matter. The topic and type of work should be something students will be excited and motivated by so they stay engaged throughout the process.
Alignment with skillset. The project should be appropriate for the skill set of your students, while still allowing them room to learn new things. It is also important to consider the expertise of available mentors, choosing projects where mentors will be able to advise students. For example, if you have a project that involves computer programing, it will be essential to have some students who have experience working with computer software.
Required resources. What resources will be required, and are they available? For example, if the final deliverable is a prototype, you will need access to a workshop, tools, and a budget for materials.  On the other hand, if the deliverable is a feasibility study or business plan it may require internet access or transportation.
Scalability. We seek projects that may be small, but have potential to be replicated at larger scales.